COVID-19 has taken the center stage of the world's focus after disruption of all ordinary operations, activities and annual schedules. This year's Easter holidays will be different from those of the past years after several countries announced lockdowns while others like Kenya announced daily dusk-to-dawn curfews. With top world leaders like UK's Prime Minister Boris Johnson testing positive for the virus, everything in the coronavirus crisis will shape communications in the future.
On Sunday, April 5, 2020, Queen Elizabeth II gave a passionate briefing on COVID-19, affirming Britain's unity in fighting the virus.
"Together we are tackling this disease and I want to reassure you that if we remain united and resolute, then we will overcome it. I hope in the years to come, everyone will be able to take pride in how they responded to this challenge," Queen Elizabeth II said.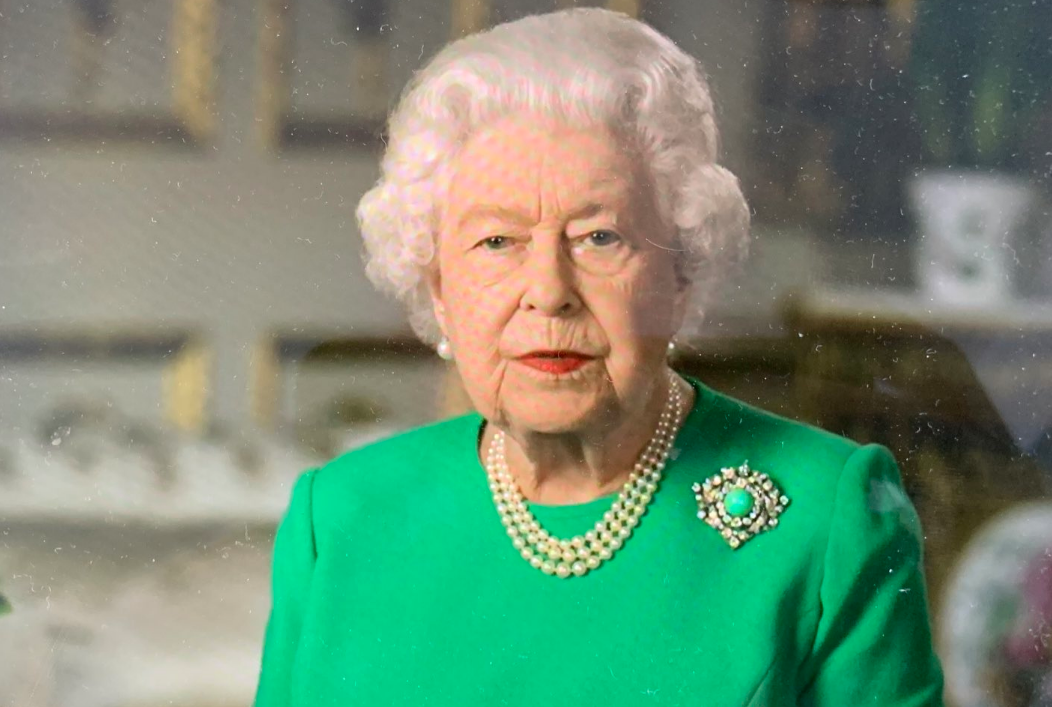 Queen Elizabeth asked Britons to be united in the fight against COVID-19. Photo: Devin Heroux
Most countries have taken critical decisions to protect their people from the virus. Suspension of international flights, temporary closure of borders and quarantines have been some of the stringent measures taken to curb the spread of the virus. This may be the reason why Uganda's President Yoweri Museveni could not hide his strategy in tackling the virus way before Uganda recorded its first case of COVID-19.
"When it comes to health, it is better to be a coward and be on the side of caution," President Museveni said at a press briefing on March 18, 2020.
With many developments as a result of coronavirus pandemic, great lessons in Communications and Public Relations can be noted from the various ways in which the world is tackling the virus. In this case, we will focus our main examples from the Kenyan context.
Don't lie to the public. People have become more intelligent.
A New-York publication, Wall Street Journal, recently praised Kenya's Health Cabinet Secretary Mutahi Kagwe and the entire ministry's team for the best approaches they used to curb the spread of COVID-19. As you may have noticed, the ministry has been giving daily updates on deaths, infections and world outlook concerning COVID-19. The truth on deaths is always critical in communications. As much as it may affect people's perceptions of situations, announcing them to the public reduces anxiety to some extent, public uproar and aggressive inquiries about the truth.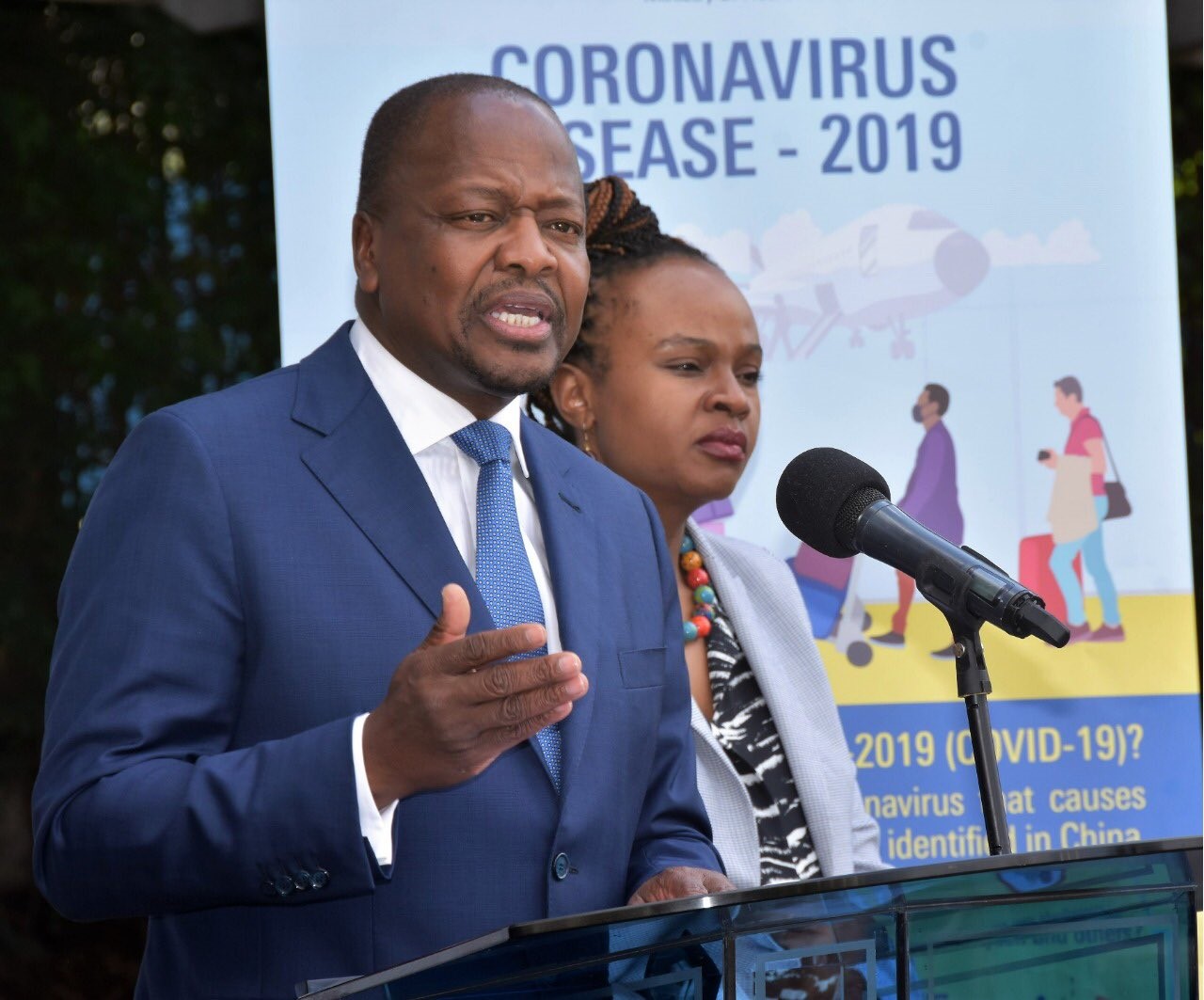 Kenya's Health Cabinet Secretary Mutahi Kagwe and the ministry Chief Administrative Secretary, Dr. Mercy Mwangangi, at a past press briefing on COVID-19. Photo: Ministry of Health
Brenda and Brian's recovery story was a unique one as it lost focus from the recovery agenda. Many netizens claimed that it was cooked-up to show how Kenya has effectively tackled the virus and recorded recoveries. Some netizens went to the extent of retrieving Brenda's social media updates that didn't show that she was in quarantine for 23 days as she claimed. The matter turned into personal attacks and online lynching of Brenda who had a lot of information on her whereabouts in the public domain. However, the country's Health Cabinet Secretary Mutahi Kagwe rubbished the claims saying no government would simply use people's names and identities on matters to do with the deadly COVID-19. Kagwe asked relevant law enforcement agencies to arrest any social media users who were propagating the narrative. This is something that may have further developments in the future due to the controversies around it.
It was evident that the government was out to prove its statement and it seems to have impacted perceptions of some netizens. Apart from this incident, the Kenyan government executed its mandate and duties concerning COVID-19 in exceptional ways.
On April 2, 2020, President Uhuru Kenyatta apologized to Kenyans over police brutality on the first night of the dusk-to-dawn curfew that began on Friday, March 27, 2020. Accepting a mistake that happened as the head of the government was a great move. This can never be considered as a sign of weakness. Most times, solutions may lie in apologies whenever something wrong has happened. This is what world corporate and communication leaders need to understand and practice
2. Public Campaigns must be compelling and momentous to create a wide and deep impact.
The Kenyan government instituted a vibrant public campaign as one of its strategies in the fight against COVID-19. It partnered with telecommunications giant, Safaricom, to send SMSs to persons in the country on COVID-19, preventive measures and its directives on the virus. This means that its messages reach almost all the people in the country who had access to cell phones. The government also launched robust media campaigns and advertisements on COVID-19 to reach out to masses via TV, radio, social media platforms, and newspapers. The 719 toll-free number for calls and texts was a good way of motivating people to call the government whenever any issues related to COVID-19 arose. This is a great strategy that may have changed Kenya's narrative concerning COVID-19.
Public awareness influence people to make the right decisions. If civic education on matters like the constitution and the famous Building Bridges Initiative (BBI) would have been executed the way the COVID-19 communication campaign was done, many Kenyans would be having a deeper understanding of the law and the constitution and would have not hesitated to consciously affirm whether the country needs a constitutional change or not. This is how public communications need to be executed. If almost everyone is talking about it, then it means communication was effectively executed. This is something that can be replicated in specific communication projects and media campaigns where targeted audiences talk and interact with information related to a campaign or a project.
3. Communicate and repeat the message until it is normal and comfortable to audiences.
For those who have been following Health CS Mutahi Kagwe's briefings, sanitize, washing hands, social distancing, adhering to government's directives and staying at home have been his lyrics for the COVID-19 song. Even children of tender ages have been able to articulate messages on COVID-19 and they know that people are not supposed to shake hands at this time. The only challenge that comes with messaging is when it becomes boring. On the positive side, it means that one has done beyond the ordinary levels and it became boring after people consuming the messages several times. It means that you reached out to the said people. You can compare it to a TV show that has been aired for a long time.
However, on the negative side, the target audience may begin to ignore the messages as they believe it is something that they know. Changing formats, language, style, and content would be a great additive at this stage of communication. Call to action messages works well especially when you need the target audience to take necessary actions. However, they should not be a turn-off to the audience. The best call to action messages is the ones that trigger people's conscience to re-read a message. This means that they are likely to take action if they find the messages worth reviewing again. However, some call to action messages works on the first reading, probably because of being precise and with a direct message.
4. Invest in Digital Communications. It is no longer a choice.
A good number of people are currently working from home. It is, however, good to note that some companies cannot execute their duties without their staff being physically present at work. As per the government's directive, several companies have reduced the number of their staff working per day, instituted new working shifts and sent some staff on leave so that to reduce crowding at workplaces. Digital platforms such as websites, web apps, social media platforms, and mobile apps have kept some businesses going. Digital Staff Management solutions have helped organizations to follow up on daily work progress by employees.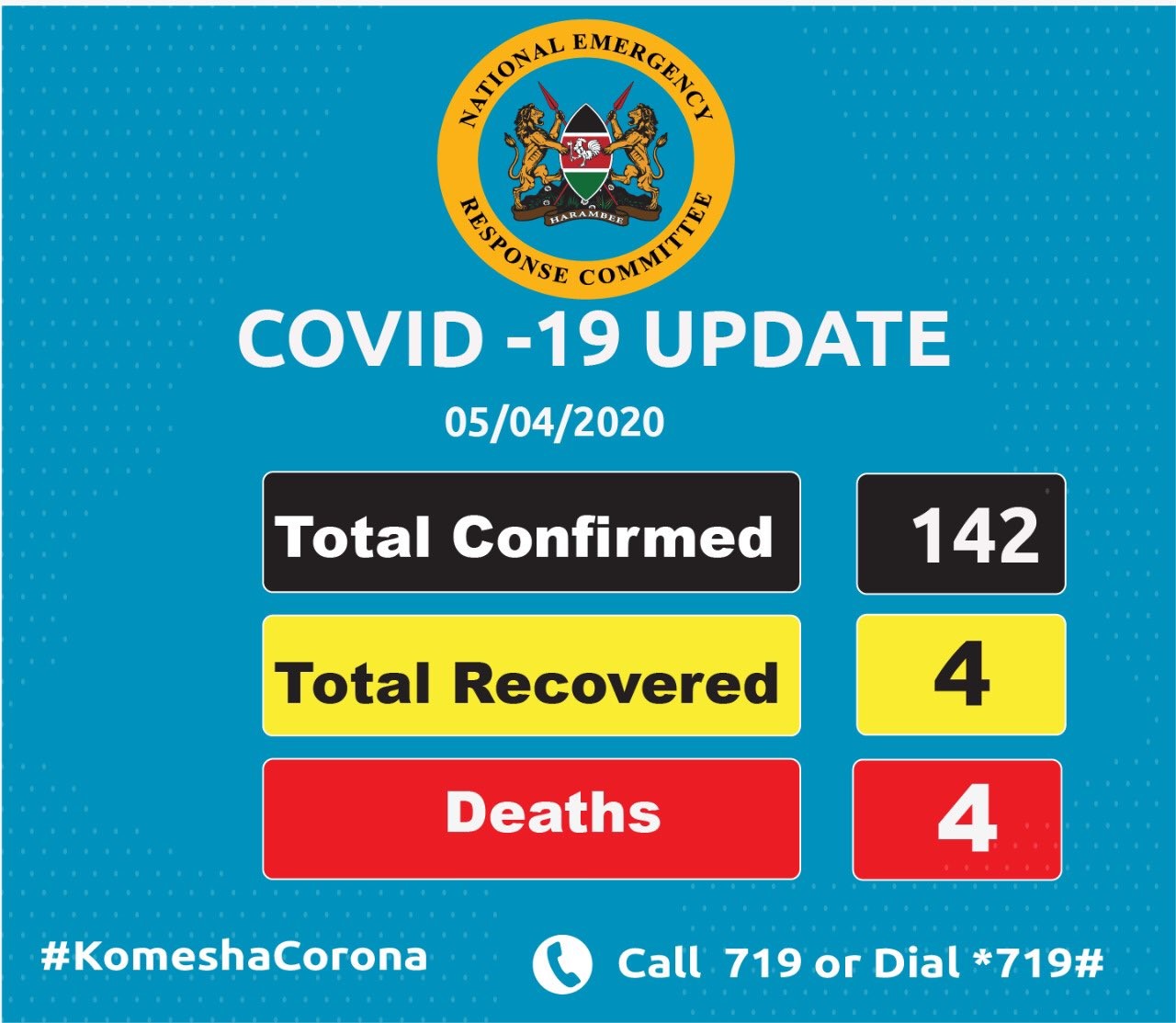 This was Kenya's tally on COVID-19 confirmed cases, recoveries, and deaths as of Sunday, March 5, 2020. Image: Ministry of Health
Digital communication has worked well for businesses that do not need people to physically be in their offices. It has reduced movement, hence reducing the chances of many people contracting COVID-19. Organizations that were ready with their digital systems before COVID-19 struck are witnesses to the benefits of the digital space. Hiring consulting agencies like Heuristics Media and Communications Consultancy to offer advisory in this field will reward businesses in good and bad times.
5. Make the target audience own a project or a campaign. They will run it to success.
Health CS Mutahi Kagwe's appeal to the young people to help in the fight against COVID-19 was a well-calculated decision. Youths influence many sectors and with their support and creativity, Kenya is likely to win this war faster. Kagwe's several appeals to the public that their actions will determine when COVID-19 cases will come to an end in Kenya is another example. Making people conscious that their simple actions are part of a national solution to a global problem is a great step towards success.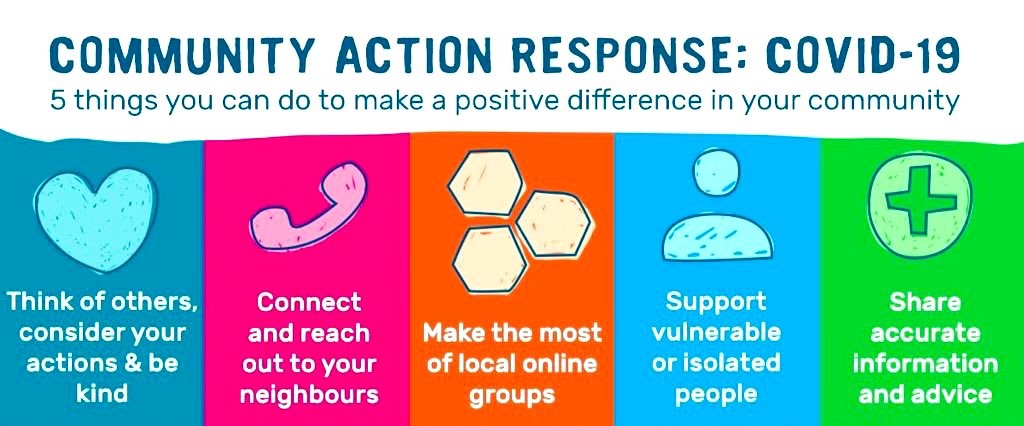 Kenya's Ministry of Health has engaged people living in Kenya with informative messages on its strategies to fight COVID-19. Photo: Ministry of Health
When you see Kenyans wearing masks on their own volition, saying no to handshakes, some staying at home and others following social distancing rules, then it means they have consciously been influenced by the messages the government has been sharing. They are agents of change in fighting COVID-19. You will not have everyone following the government's guidelines, but when the majority is with the government, the fight against COVID-19 is being won as days go by.
6. Give incentives. It facilitates success in the present and future times.
The Kenyan government and private stakeholders announced various economic relief measures to help its people cope up with tough economic times as a result of the COVID-19 crisis.
The reduction of resident corporate income tax from 30% to 25%, the temporary suspension of Credit Reference Bureau (CRB) listing, Safaricom's decision to waive M-Pesa fees for transactions below KES 1,000, Kenyan banks declaration of reliefs on loans among many other developments helped Kenyans to embrace the fight against COVID-19. Many people thought that such actions could never happen in the country. Sometimes, giving unique offers to clients, audiences and target markets help them to embrace public campaigns.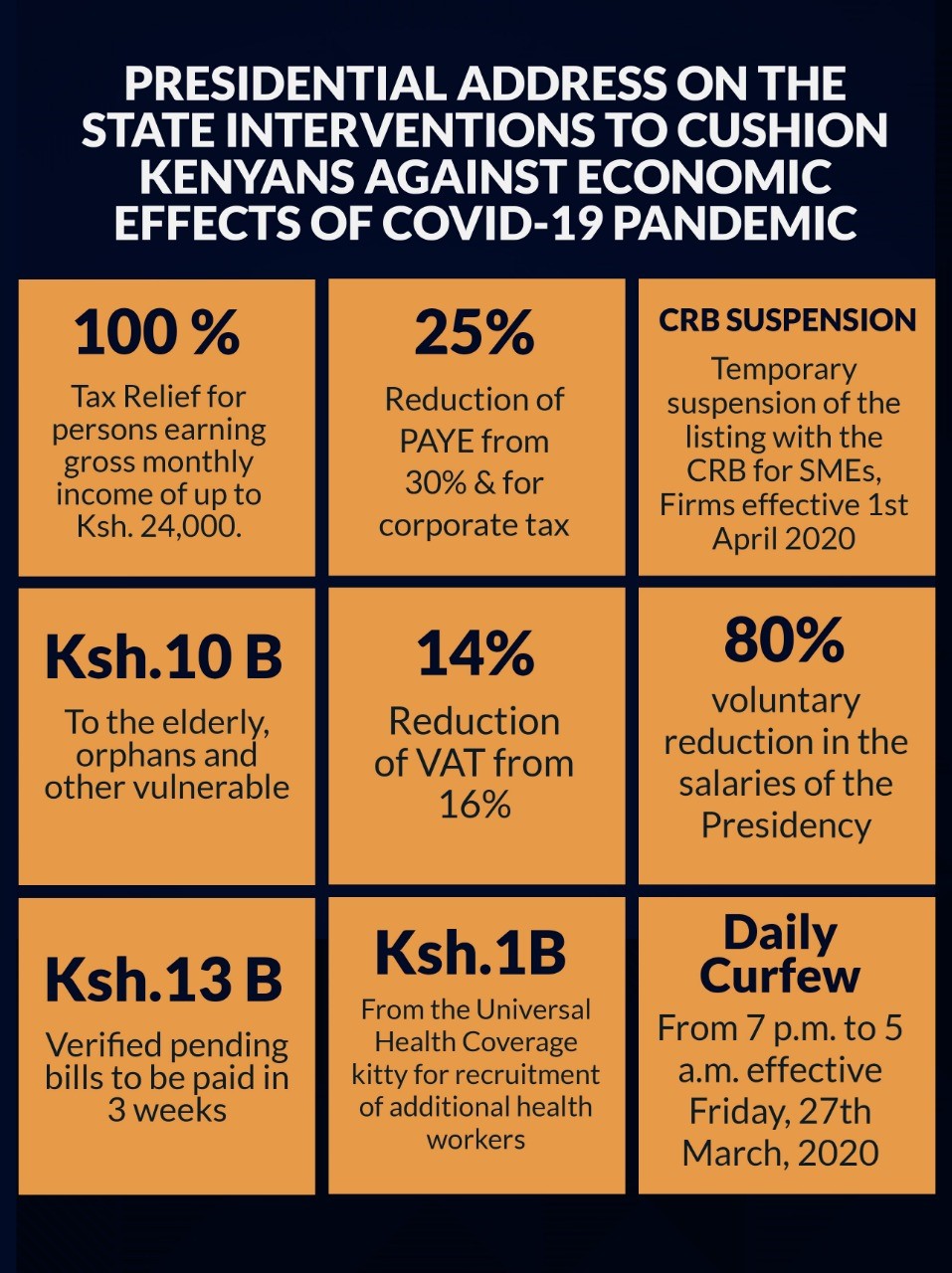 The government of Kenya announced some economic measures to help its citizens amidst the COVID-19 pandemic. Image: State House-Kenya
If incentives can be done to achieve something bigger in the future, then the sacrifice is worth it. Without an audience, messaging doesn't make sense. Without customers, a business does not make sense. Incentives like transport allowances, field allowances, meeting allowances, community projects, and many other initiatives have in the past helped organizations to win communities and execute their campaigns and projects.
What must be noted here is that gains from incentives must be well calculated to deliver desired results without affecting the financial stability of an institution. In times of crisis, it is good to look at the overall impact of the incentives to the specific organization, other institutions, stakeholders, customers, and the business environment.